The O-G Worker Bee™ Has Arrived!
The Starter Package contains all the basics you need to start trimming flowers in comfort! The Ultimate Package comes loaded with a DELUXE TRAY BAG & TOOL BAG for the trimmer on the go! Click on the pictures above to learn more about the two packages available and to place an order!
Harvestime Black Bags Have Arrived!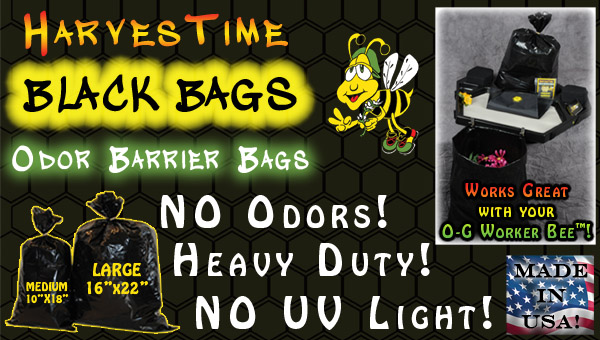 Harvestime Black Turkey Bags are super handy around the house and in the garden during harvest time! These ODOR-BARRIER Black Bags protect the precious contents inside from damaging UV light. Preserve Dried Herbs & Hops! Store Bulk Foods & Spices! Click here to buy Harvestime Black Bags! AVAILABLE in 5, 10, 25, & 100 PACKS!
WHOLESALE PRICING IS AVAILABLE!
If you have any questions about the products you see here, or if you would like information on our wholesale pricing, please contact us using our contact form.
Thank you for visiting us here at Harvestime Technologies! We look forward to bringing you even more innovative gardening and harvesting tools in the future to help you work more efficiently, and get the most value out of your harvest! Happy Harvesting to All!